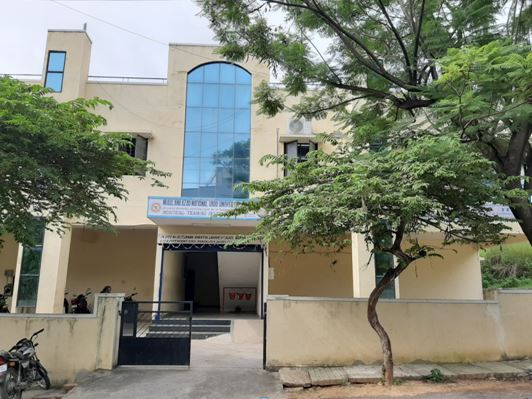 Details of Institute
| SL.No | Particulars | Details |
| --- | --- | --- |
| 01 A | Name of the Institute | Maulana Azad National Urdu University |
| 02 B | Address of the Institute | CA Site No.2 (P) Jnana Bharthi Layout, 3rd Block, R.V.College Post, Valgerahalli, Mysore Road, Bangaore-560 059. |
| 03 C | Date of Establishment | 2008 |
| 04 D | DBET File Reference No. | DGET/06/10/177/2008TC |
| 05 E | Code Allotted by DGET | 97 |
| 06 F | Contact No. | 08023181062 |
| 07 G | Moble No. | 09482009116 |
| 08 H | Fax No. | --------- |
| 09 I | Email ID | manuuiti(at)gmail[dot]com |
| 10 J | Location Rural/Urban | Urban |
| 11 K | Approach /How to Reach | Near R.V.College, Mysore Road, Bangalore |
Maulana Azad National Urdu University Industrial training institute is established in the year Nov, 2007 at Electronic city Bangalore, which has two trades Electronic Mechanic, Mechanic of Refrigeration and Air Conditioning affiliated to NCVT. The Institute has been later shifted to its own building at Jnana bharthi layout, Valgerhalli, Bangalore-59
Introduction of the Institute with the Mission Statement and Objective
Maulana Azad National Urdu University Industrial training institute is established in the year Nov, 2007 at Electronic city Bangalore, which has two trades Electronic Mechanic, Mechanic of Refrigeration and Air Conditioning affiliated to NCVT. The Institute has been later shifted to its own building at Jnana bharthi layout, Valgerhalli, Bangalore-59
History of the Institute (University)
Maulana Azad National Urdu University (MANUU) is a Central University established by an Act of Parliament in the year 1998 with a mandate to promote and develop Urdu language and to impart vocational and technical education in Urdu medium through regular and distance modes. The headquarters of the University is at an outstanding central location - Gachibowli, Hyderabad, sprawled over 200 acres. The students and staff of the University are drawn from throughout India. They are attracted by its commitment to excellence in quality Urdu education in all disciplines of knowledge. It has been accredited 'A' Grade by NAAC.
The University has established Industrial Training Institute (ITI), Bangalore. For all the disciplines on offer in ITI, Urdu is the medium of instruction, which fulfils one of the objectives of the University of imparting vocational training in Urdu. Accordingly, the mission of the Industrial Training Institute is as follows:
To provide wider access to people desirous of pursuing industrial training in Urdu medium through Campus mode.
Name (s) Chairman and Members
The details of Executive council, Academic council and Finance committee are as below.
Scheme running in the institute (CTS and MES etc. under NCVT)
| Name of the scheme | Total capacity | Duration | Admitted in current Financial year | Current Status |
| --- | --- | --- | --- | --- |
| Craftsmen Training Scheme | 42 Intake | Two years | 42 | 27 |
Admission Criteria
By percentage of Marks in qualifying
Interview
| Name of the trade under (NCVT) | Duration of Training | Eligibility Qualification |
| --- | --- | --- |
| Mechanic  Refrigeration & Air Conditioning | 02 Years | S.S.L.C |
| Electronic Mechanics | 02 Years | S.S.L.C |
Trades Affiliated to NCVT and SCVT
Name of the trade (linked to the respective syllabus with DGET Website)

Number of Units

Shifts Running (I/II/III)

Seating Capacity Per Unit

Total Seating Capacity

Affiliation date /Copy of DGET order link (SCANNED)

Mechanic Refrigeration & Air Conditioning

02

General

21

42

DGET-6/10/177/2008-TC DT:26/09/2008 SEF Feb 2011 Linked

Electronic Mechanics

02

General

21

42
Summary of Trades affiliated to NCVT
Trade Name

Total No of Units

DGET order number of units

Mechanic Refrigeration & Air Conditioning

(01+01) =02

DGET-6/10/177/2008-TC DT:26/09/2008 WEF Feb 2011

Electronic Mechanics

(01+01) =02
Summary of Trades affiliated to SCVT
Trade Name

Shift intake

Total No of Units

Remarks

-----------

1st

2nd

3rd

-----------

------------
Application Format for Course (s)
Name of Course

Duration

Tentative date  of course

When to apply

Application format (Download link)

MRAC

2 Years

July

May

EM

2 Years

July

May
State Directorate
| | |
| --- | --- |
| Name and Address of Directorate | Vijay Shankar B.M |
| Contact Number | 080-25189163 |
| Fax Number | 080-25189163 |
| Email Address | www.dget.kar.ac.in |
Feedback and suggestions
| | |
| --- | --- |
| Address for sending feedback and suggestions | CA Site No.2(P) 1st main road Jnana Bharthi Layout 3rd block Valgerahalli Bangalore-59 |
| E-mail ID | |
| Contact No. | 080-23181062 ,09482009116 |