ACADEMICS :: UNIVERSITY OUTREACH :: About H.K. Sherwani Centre for Deccan Studies
About H.K. Sherwani Centre for Deccan Studies
The right opportunity came to intensively examine the Deccan, a relatively understudied region, when the Maulana Azad National Urdu University was allotted the Centre for Deccan Studies at the end of the XI Plan at its University Headquarters, Hyderabad in 2012. The core of establishing such a unique centre, one of its kind in the country came from the vision and bold initiative of Prof. Mohammad Miyan, the former Hon'ble Vice Chancellor of MANUU who recognized the importance and necessity of establishing such a centre in the heart of Deccan i.e., Hyderabad.
Once MANUU was allotted the prestigious centre, it was only befitting to name it after the renowned Indian historian, scholar and author, Haroon Khan Sherwani, whose contribution to the study of different dimensions of the Deccan is immensely noteworthy. Lending his name has not only given a distinct character to the Centre but is also paying homage to a great academic's untiring and unsurpassed work on the Deccan.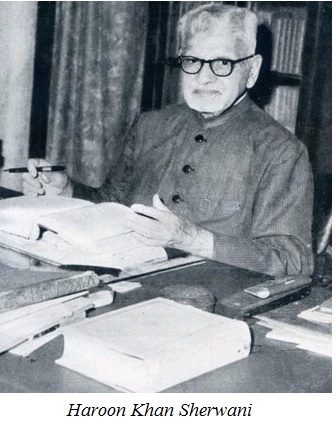 Before the formal opening of the Centre on 11th September 2012, an intense session of deliberations was held with persons of eminence who came from different sections of research, teaching, expertise and scholarship on the Deccan to discuss the proposed aims and objectives of the Centre. From that debate emerged the future plans of the Centre.
The Centre's vision and mission, niche areas of research, and inter-disciplinary focus have been specifically framed keeping in mind the fact that many of these areas have not yet found a place for study in a traditionally constructed framework. Keeping up with the expectations on which the scope of the H.K.Sherwani Centre for Deccan Studies developed and aspiring to redefine established ways of thinking in the Maulana Azad National Urdu University's educational framework, the Centre has before it the task of bringing within its purview, areas of study ranging from the natural sciences to the social sciences and the humanities. The Centre's broad-based, all encompassing scope brings together different disciplines and streams of study—archaeological, historical, geographical, geological, cartographic, administrative, socio-economic, religious, cultural and literary—that will converge to produce healthy academic standards.
Important Links